Morning's resolution for the day: Only positive words come out of my mouth

I radiate love and warmth! Focus on being the best me. Let go of the past to open myself up to new opportunities. Greet and embrace the world with an open heart. This is how I approach the world!
            .=====__
                    /==Z' .===_ ~~=,_===
                  _/  |   |    YZ, `,   ~
                  |   |   | _/=j'   !,   d
           __====_|   |   b/    V`;  /'  .M ,
   `5==/~~       W,  t   d+,  .D4| /   /'|/~~~=__     .-
    `            t~ |   |t`~~T/'|Z  :/  |        ~~=/V
                 |  4,  | ~/~' :Z  -!   |             |
       ,      /__|   \.!     :XG      / ._,       ./'
        `L    |    ~;    V;  _//' |     .f~' `~;    .b_
       ./ \__JL    `;    Y7~     |    / /     d   //'  ,
      .!       `D,  `,   |     .!   .t/    .(_/=~
      /         `;`~~~=+=qLb,   jK_L==f'    j''          `;
    ./          .(r,        `~5'   ~\,._r/              |
 ~=m!         ./D' `,          ,     !G~                 t
    ~==___===/'/   .!`__       /! __=~\~=_                TG=
              |   .|     ~==r@/~5    !,  ~=_,        __//'
              |./~V           ||  `| ,  t     ~~~~==~~
              t|  |           | |  |  !, =_,
              !   t          .! !,     `/~~~
                  |          /   !/
                  `;       ./      `~-
                   t      .!
                    N,  ./'
                     `/'
I woke up this morning and decided to venture outside of the relatively overpriced, Western food and pick up some cheaper, Thai food from a soup vendor I had found the other day on my "exploratory walk." I picked up a chicken curry soup, a fish and bamboo soup, and a mushroom soup. All these for the price of one Western meal!
Breakfast: Chicken curry- SPICY!!!!!!!!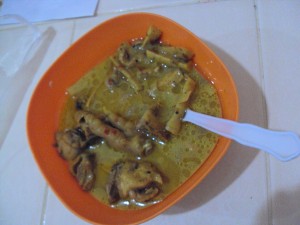 9 AM: "MMA" class (JJ). Class today was pretty fun. I had partners with good attitudes, so that makes all the difference. Today we learned
You start in side control, let's say the person bumps their hip and pulls their forearm under your neck to put pressure on your throat. You put both your hands on their one bicep and push it to the ground and from there go into the the keylock/Americana submission. I think.
You start in, say, side control of their left side, let's say the person bumps their hip and pulls their forearm under your neck to put pressure on your throat. You work your right arm underneath their forearm, and clasp your own arm, with the left (top) arm pronated, and the right (bottom arm) clasped underneath. Put your right knee on belly, and scissor your forearms to cut off their air. This is called a "baseball" choke because it looks like your are holding a baseball bat. It kind of looks like this:

httpv://www.youtube.com/watch?v=pMdbA4wLYRw

You start in, say, side control of their left side, let's say the person bumps their hip and pulls their forearm under your neck to put pressure on your throat. You crawl your right hand forward to get some leverage on their arm (that's digging into your throat), then you quickly dash your right arm to your left side and put your ear toward their shoulder, all the way on the ground. Put knee on belly, mount, then knee on belly to the other side. Tip toe all the way to the right, and smash your left shoulder toward your wrist, and that should elicit a tap. I'm not sure what this one is called.
When we rolled, I had a good time. In one of the rounds, I caught the guy in arm bar from guard. Ray and some of the others watching heckled him "Dude! She caught you in an arm bar!" He retorted "I let her! I have to be nice to her because she's a girl!" Oh, is that so? My ass! "No! Don't be nice to me!" I insisted. So right away he tried to snap me in a guillotine, but I got out of it, and he didn't tap me, not once. I don't even recall if ANYONE tapped me. Either I'm good, or they're bad, or everyone is being way too nice to me : /
Came home, showered, had half a tangerine.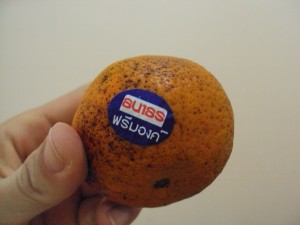 12: private JJ lesson. Learned/reviewed:
From guard:
Arm bar from guard
Kimura from guard
Triangle from guard
Arm Bar to Triangle
Kimura to sweep (planting arm not twisted)
Scissor sweep (holding tricep and back of head)
Scissor sweep to triangle (if they won't scissor)
Scissor sweep to another sweep (don't know the name)- if they stay planted, grab your opposite arm to their tricep, other arm around their neck/back, then roll toward the hip farthest from the ground, leading with opening the knee
From side control:
how to get from one side to the other
how to get from side control to the mount
keylock from side control
if they straighten their arm to defend- do an arm bar by hyperextending the elbow from the keylock position
kimura from side control (switch hips, and sit up)
if they defend the kimura by planting their hand, bring the knees around their head, twist their body on the side, and do the kimura from there
if they defend at this point by keeping their hand planted at the waist, turn it into a traditional arm bar
From mount:
keylock from mount (place your two hands on their one forearm, place it on the ground, grapevine your legs, smash your hips, and dig into the keylock
if they un-grapevine your legs, then bring your knee right over their belly and get into side control and do the keylock from side control
Arm bar from mount (one hand on tricep, one hand smashes across the face, foot over, and go for it
There are a few I kind of forget.
Let's see if I remember any of it in practice.
Came home, showered, ate the fish and bamboo soup + other half of the tangerine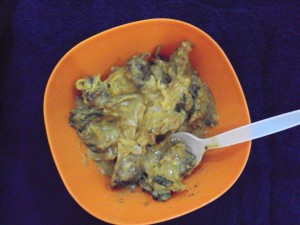 2:30 Private boxing lesson with Chok Ti. Turns out he fought Manny Pacquiao! But with me he used the same combo again and again (left- left right- left right, uppercut, right) so I don't know if I will do that again. Probably focus on Muay Thai.
Came home, showered, picked up laundry, went back to Tiger to watch the 4 PM Advanced MMA class to see if I could hack it. As far as skills, what I saw of the class today was not too terribly beyond me (faking it to making it, of course), but as far as cardio….I would die. They did 5 min rounds upon rounds upon rounds upon rounds upon rounds of Muay Thai pad work, sparring, heavy bag ground and pound, grappling, etc… : O   It was impressive. I DO want to take the class…but ummm these guys were AMAZING. I don't think I'm there yet for this sport.
I had a protein shake with peanut butter (unpictured, from Tiger), met up with Tina, then went to Tony's for chicken curry (unpictured). FULL!
Here is a lovely picture to leave you with: Here are some of the bruises I currently have: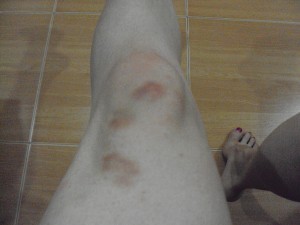 I know you are very distressed with how WHITE MY LEGS ARE, I'm sorry you had to witness that!
LOVE
~K
Share