Training Approach and Expertise:
Freestyle Fitness Addiction was founded by the delightful yet devious Kristina. She brings a fresh, holistic approach to achieving your functional fitness as well as aesthetic goals through a mixture of progressive methods; outside of the box, unconventional, yet efficient exercises; classic, foundational movements; individualized, sustainable nutrition; proper, positive mindset; and lifestyle choices that support results.
By removing the stigma of exercise as something dreadful, mind-numbing, endless, and confined within gym walls, she aims to transform your conception of what exercise is and can be, as well as transform. your. body.
Kristina has a range of experience, working with youth to older adults, injured to high-performing individuals, cancer patients in recovery, diabetics, pre- and post-natal women, and more. She specializes in strength training, bodybuilding, functional conditioning, core stabilization, nutritional guidance, and helping identify and remove psychological barriers to success. She also specializes in figure and physique competition training that will NOT wreck your metabolism.
Get your best body with Freestyle Fitness Addiction!
Who is Kristina?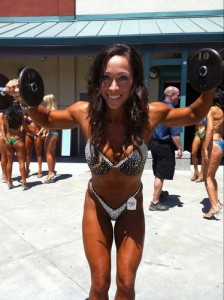 Kristina is a Certified Personal Trainer with advanced training as a Corrective Exercise Specialist, and as a Performance Enhancement Specialist from the National Academy of Sports Medicine. She is a nutritionist certified by Precision Nutrition; is trained as a Holistic Lifestyle Coach (HLC) from the C.H.E.K. Institute; is a certified RKC (kettlebell) instructor; and is Reiki-certified. She has numerous CEU's and is certified in different modalities including the TRX, and has a passion for all forms of training, from functional training to bodybuilding. She graduated summa cum laude with her Bachelors of Science in Psychology, and earned her Masters of Science in Exercise Science.
An athlete from a young age, Kristina started off with competitive gymnastics. As she got older, she started dancing and choreographing. During college, she began lifting weights and would frequently visit forested trails to run off her energy. After she graduated, she joined two professional dance groups- one all-female breakdance crew, and another dancehall group. She started training mixed martial arts and also continued with adult gymnastics and weight-lifting. She decided that she wanted to share her love of exercise and nutrition with others, and became a personal trainer. In 2010, she lived in Thailand for three months to study mixed martial arts. She competed in a few jiu jitsu tournaments and then the next passion swept over her. She decided to fulfill a long-time dream and compete in figure competitions. On August 6th, 2011, she competed in the INBA Natural Bodybuilding Championships and won first place in her division. On August 20, 2011 she stepped on stage for the NPC Central Valley Classic and again won first in her division. On December 15, 2012, she competed in her first powerlifting competition through the USPA and set the new California State Bench Press Record as well as the California State Deadlift Record. On June 7th, 2014, she competed in the Old Skool Iron Classic Powerlifting Championships, and broke the national squat record, the national bench press record, the national overall total record, and won Best Lifter Award. On August 23rd, 2014, she debuted in women's physique at the NPC Tahoe Show and swept 1st place in her height class, won 1st place overall, and qualified for Nationals. On October 11th, 2014, she competed at the NPC San Francisco Bodybuilding Championships, and again won 1st in her height class, and again won the 1st place overall title. In November 2014, she competed on the national stage in Miami, Florida.
She is currently obsessed with Krav Maga and is enjoying learning how to punch people in the face.