Weight loss is complicated, and it's not complicated. Yes, it is energy in versus energy out- but if it was as easy as that, why do so many of us still struggle to lose weight?
I think one of the main reasons that people have difficulty in achieving their health and fitness goals is not ignorance. Everyone KNOWS stuffing their face with cookies is counterproductive to losing weight, everyone KNOWS that going out and exercising is excellent in improving his/her level of fitness….yet…people fall into their unhealthy habits time and time again. Why?
They are not putting LIFESTYLE first. How fulfilled do you feel by your relationships? How well do you take care of yourself? Do you make sure you are getting enough sleep for yourself every night? Do you make sure you drink enough water? Do you make sure you are not saturated with stress? Do you love your life? Do you appreciate your friends, family, and/or significant other?
A fit and healthy person needs incredible energy, dedication, vitality, positivity, and discipline to make it into the gym, make healthy nutritional choices, recover, and dexterously handle all of the other demands of life. I guarantee that emotional eating, stress, getting drunk, exhaustion, and other factors will always be the sabotager of health goals. Cultivating a healthy lifestyle full of love, passion, joy, and gratitude are the pre-requisites to fitness.
It's only when THESE needs are filled that the need to overindulge or distract yourself with food, drugs, and/or other vices are mitigated. Clearly, weight loss is not a merely physiological effort. Lifestyle and psychology are critical components in achieving your fitness goals.
Behavioral change and cognitive change need to be coupled. You won't be able to stop binging, for example, (behavioral change) if you cannot change your mindset and/or coping strategies (cognitive change or reframing).
Most people regain the weight that they lose because they don't create in their mind a long-lasting change in how they prioritize their health and fitness. They may try a gimmick, cut out some certain foods for a while, or try to get into the gym and do some cardio (which I will address in another post), but they are not changing their cognitive framework for the long term. They are looking for a quick fix, or they feel they are not indulging in the activities or foods that bring them "joy." Instead of reframing their healthy choices as TREATS to themselves, they perceive their healthy choices as deprivation…so they set themselves up for failure.
If you THINK that losing weight is impossible and too hard and terrible and depriving, then it will be. The voices of innumerable experts on methods of elevating one's self come to mind – The Law of Attraction, The Secret, Napoleon Hill, Tony Robbins, Wayne Dyer, Esther and Jerry Hicks, and so forth. Their messages all boil down to one principle: Whatever you think, so it shall be.
Long-lasting weight loss is not achievable through a pill, a cleanser, a drink, a bodywrap, colonic, diet trend, or with a couple of hours of exercise. Being healthy results from the culmination of various factors including fulfilling relationships, feeling driven by a purpose or passion in life, moderate food choices, consistent exercise, and more. It's not all about finding the right workout, the right trainer, the diet. It's about the right mindset.
Again, foot and exercise are important in weight loss. But without a positive, persistent attitude and mindset for success, you won't get anywhere. If we put ourselves in a state of determination, making the physical choices becomes much easier. The physical is just one small part of the equation. We need to recognize that fitness goals are highly influenced by a complex and multi-dimensional constellation of emotional and psychological variables.
The moment you take responsibility for your circumstances, your thoughts, your actions is the moment you start creating for yourself a better life. Don't victimize yourself because you're overweight. No one got you into that condition except yourself. Don't berate yourself or get yourself down because you're overweight. Forgive yourself and uplift yourself. Change your mindset and realize that you have the power to change NOW! You have all the power in the world to change your state for the better, so start working toward your healthier YOU and a body you feel great about NOW.
A little photo inspiration of a few of my favorite figure competitors, the magnificent Valerie Waugaman and Diana Chaloux, below: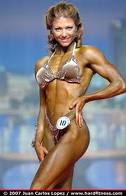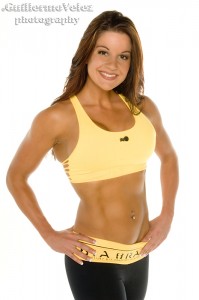 Share