Oh by the way I forgot to mention on my blog that I did a guest post on FoodsOfApril.com! It's a protein powder review.
Here is some of it:
WHEY-BASED PROTEIN POWDERS
Miracle Whey (Peanut Butter Flavor)– The best tasting peanut butter flavored protein powder I've ever had! This is Mercola's line of super healthy cold pressed whey from only grass fed cows! It is a bit higher in carbs than I would like, but very tasty, yow! 3 g F, 12 g C, 4 g sugar, 19 g P
All The Whey (cake batter flavor)– yummmers. This may be my all time favorite protein powder?? Not only is it extremely delicious, but it has good stats: 0 g F, 1 g C, 1 g sugar, 25 g P per serving!
Optimum Nutrition (mocha cappuccino)– not too bad! I like it because it tastes like cappuccino yummm. Sometimes I add it to my morning coffee or soy latte…. ;P 1.5 g F, 4 g C, 1 g sugar, 24 g P
Nectar (Chocolate Truffle)– eh. Whatevz. A little grody but fine. 0 g F, 1 C, 0 sugar, 23 g P
Jay Robb unflavored protein powder – incredible stats: 1 g F, 0 g C/sugar; 26 g P!! Indeed it is tasteless- great for baking and cooking!
Designer Whey in French Vanilla– Very common protein powder. Not as much protein as other powders. 1.5 g F, 2 g C, 1 g sugar, 17.5 g P
Biochem Greens & Whey (Vanilla) PP (I got it at Trader Joe's)- very nasty! Tastes nastyyy. I thought- wow, what a great way to get in some greens and some protein. But beware it tastes oddly sweet but actually nasty. After sitting on the shelf forever, I finally tossed it!
Biochem Chocolate Fudge– good.
VPX No-Carb in Graham Cracker– Not good for shakes, but awesome with peanut butter and cottage cheese!! Amazing stats too: 0g Fat, 0 g carbs/sugars, 20 g Protein
Isopure in Strawberries and Cream– decent taste. Expensive.  Great stats: .5 g F, 0 C, 0 sugar, 25 g P! BUT taste is a little funky.
Isopure Vanilla– pretty good. Great stats: .5 g F, 0 C, 0 sugar, 25 g P
BSN Syntha-6 Chocolate Peanut Butter– I bought this in the hopes of peanut butter tastiness but alas not only did it taste chocolately, NOT peanut buttery but it was too high in carbs to be worth it. Disappointed, I returned it.
Met-RX Metamyosyn Protein Blend (vanilla)- Because of the multi blend "time released" formula, Met-rx Protein Plus is best taken when you won't have your next protein meal for more than a few hours. Like if you have a long meeting, school, or before bed. However, a straight whey based protein will serve you best in your post workout shake, when your body is ready to handle a large amount of fast released amino acids. Mixability- so so. A bit higher in carbs than I would like.
For the whole post, check it out HERE!
April is a super awesome blogger and awesome young lady whose story is unique because every other woman is trying to only eat lettuce and do cardio because they don't want to "bulk up" (I would be a millionaire if I got a nickel every time a female told me this!!!)…April, on the other hand, is eating and working hard pumpin some iron baby!!! Okay, maybe not all that, but check her out, she posts daily (what my goal is, one day!), she's smart, and she wants to look like this!!!! Follow her journey 🙂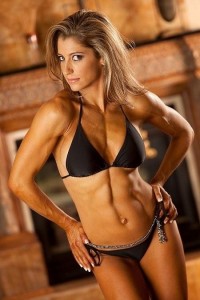 (source here)
Share