WOW
Okay
So I am trying out My Chef By Request.
My Chef By Request is a delivery service that DAILY delivers to your door fresh meals with the macronutrient distribution 40% carbs, 30% protein, and 30% fats.  I THOUGHT it was all organic, but I can't find that on the website right now.
I had found out about them when they left their brochures at the gym I train out of. I paid it no mind until my fellow trainer started to sign up for their services, and I asked him all these questions, and he didn't know the answers! So I went on to their website and was quite impressed! I loved that they are able to cater to celiacs, diabetics, vegetarians, and those who follow the Paleo Diet!
I love preparing my own foods and having control over my meals. I don't consider myself willing to eat others' food also because I prefer to each more protein and less carbs than the standard American diet (sometimes called the "SAD" diet). BUT I was intrigued by the option of relinquishing the responsibility (at least temporarily) of cooking, cleaning, and calculating….Not to mention that I have to try it myself to be able to whole-heartedly endorse the service to my clients. So I decided to give it a shot. I ordered the Paleo option, 3 meals and two snacks, and told them no pork or red meat. I was all set up to receive my food Wednesday night (in a cooler, they leave it at your door) so I precisely ate up all the fresh food by Wednesday night. But alas I was informed that there was a mess up with a new employee and I would not receive my food until Friday night. Darn! So I made an extra trip to the grocery store to get groceries to last me Thursday and Friday. Friday night (an hour ago) I received my food (for tomorrow).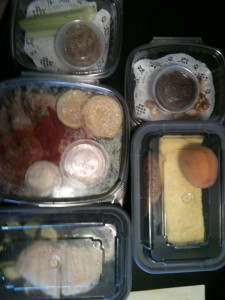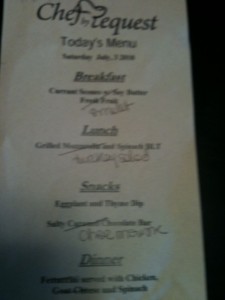 Breakfast: looks like an omlette w/a small peach and 1/2 a chicken sausage? (not listed what type of sausage)
Lunch: Turkey salad with some type of dressing (type of dressing not listed)
Dinner: Chicken w/kale, zuchini, and mushrooms? (not listed)
Snacks: Eggplant and Thyme Dip (with walnuts- not listed)
2 sticks of celery with an unknown dip (again, not listed)
It looks pretty good and healthy. I normally eat a lot of volume but it is not calorically dense so I still end up eating not too many calories, and shoot for 50-100 carbs a day. I was a little concerned by eating a greater number of carbs but uhhh if I were to eyeball the day's worth of it, I certainly would not have estimated it to contain the number of carbs it says it should! They say I am getting like 120 grams of carbs, but if I didn't know better I would guess the day's worth had more like 35 grams!!!! Well, I guess it is a blessing in disguise because I won't feel worried about excessive carb consumption??? Lol…
I am a little worried of being hungry because I don't like that feeling! The quantity of food looks pretttty darn small. Like I said, I am used to more volume. I have my tricks (you other figure/fitness/nutrition gals know what I'm saying!) to eat a lot of food but not many calories (e.g. a ton of  veggies, mashed cauliflower, spinach, kelp noodles, protein powder, etc are some staples!)
One thing that could have been more professional was the list of what I was given! There was a list printed, but it appears that it was the "regular" menu, and I ordered the Paleo. So the typed list was crossed off, and a few words were scribbled on top, but it was far from comprehensive. E.g. for breakfast it says "omlette" but really it included also a small peach, and some type of sausage (type: unknown). For one snack, it is completely illegible—ummm looks like "chloe" something??? I have no idea. And it is just two celery sticks and some type of sesame something dip. It would be nice to know what I am eating. And for dinner, the typed item is crossed off, but nothing is written as to what I am receiving, although it looks to me like kale, zucchini, mushrooms, and chicken.
SO! I am excited to try this out. Ha. Will keep you posted how it goes tomorrow.
xoxox
Share