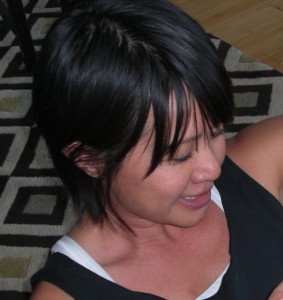 Above is a picture of Roxy. I am almost certain this is a picture of her while she is doing a triangle on her dog and brushing his teeth, which she told me she does.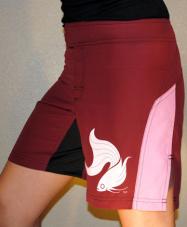 Here are her popular female fight shorts!
AKIMMA is an MMA clothing line that is stylish yet functional, that has a lot of options for women! Many brands of MMA clothing (fight shorts, etc) only have lines for men. AKIMMA- which stands for "Artfully Krafted in Mixed Martial Arts"- is definitely a brand for women to check out (ok, and men, too).
I had a chance to ask the founder of AKIMMA, Roxy Buu, a few questions. By the way,  this petite little Asian chick is no one to mess with. I rolled with her and can attest that she is not only an awesome clothing designer, but also great at jiu jitsu. Be scared.
What are some of the differences in the shorts that you implemented to specifically fit a woman's body? The difference in the shorts is that they are cut for a more flattering fit. The hem line is above the knee for a sexier length, but not too short where they are hoochie. The rise is long enough to have shorts fall off the low waist, but not too short where they expose the back crack when you bend forward. There is also a side slit for mobility and appeal. They were designed for performance without compromising/undermining women in combat sports.
What is your best-selling product? Our best selling product is the high collar hoody. It has a built-in collar and hoody with a modern fit that is slimming.  It's constructed of a medium weight cotton and polyester blend that can be worn before, during, and after a work-out.
What is your favorite position? Side control
What is your favorite submission? The kimoura
Where can we buy the goods? Visit our store online at www.akimma.com. New mailing list sign-ups receive 15% off total purchase.
Anything else you want to share? Some of our products like the fightshorts and tanks are made locally in the USA.  Since the launch, 100% of sales have gone back to sponsoring aspiring female amateur and pro fighters.
~~ROCK ON! Thanks, Roxy, you crazy side-control beezy. Your brand is the shiz. Go visit her site, buy some stuff, n get yur jiu jitsu on. Or just look fresh. Goodbye.
Share