Starting the day RIGHT with a GREEN SMOOTHIE!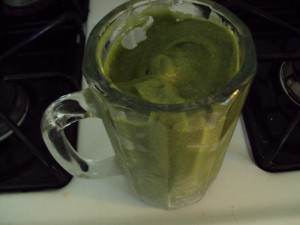 Today's Green Smoothie:
1 big handful of spinach
½ frozen banana
1 frozen avocado
a few frozen goji berries
½ scoop strawberries n cream Isopure whey powder
3 drops banana flavoring
½ cup egg whites
1/3 cup unsweetened almond breeze (almond milk)
¼ tsp guar gum (could add or substitute xantham gum)
3 ice cubes
Blend and enjoy. Yum!
Share