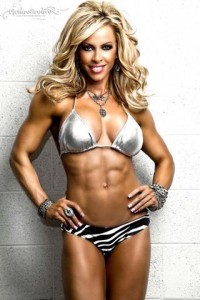 I read Ava Cowan's newest blog entry for the Gaspari website, and I loved it so much that I wanted to share it with you. Not only is Ava Cowan one of my favorite figure competitors because she is amazingly gorgeous, but she is incredibly grounded and driven. I liked the post I am going to share because she is unapologetic about being absolutely dedicated to the sport, and conveys such incredible passion and focus!
Half Way there. Ms. Figure International 2012
I have been preparing for the Ms. Figure International diligently now for 6 weeks.  I am at the halfway point and it is just mind boggling how quickly the time flies.  Preparing for this show has been all consuming, every single aspect of it.  Everyday, all of the pieces of the puzzle must start to come together and not one piece may be left out for the picture to be complete.  Especially at this point, everything in my day is meticulously thought out.  All I consider is my sleep, lifting schedule and split, cardio schedule, necessary training adjustments, deep tissue massages, diet changes, supplementation protocol etc.  I have a very set schedule if at all possible, it creates a bit of consistency that is soothing to me.  I find that the more things I do outside of what I have listed above seems to be a distraction and leads me away from my goal.  The nice thing is that week by week, I tighten the reigns.  There is a certain rhythm to it all, and it is exciting when things fall into place.  I have to say it is exciting even when they don't.  My weight sticks forever it seems and just won't budge for weeks.  The internal tension that creates gives me an extra edge and surge of energy.  So a seemingly negative actually is a positive.  Fear has always been extremely motivating for me personally….I use mental tricks all of the time.  I also watch motivational videos read inspiring books and look at pictures online to help me as well.   Tonight I will be sipping SuperPump Max to get me through this long night [training].  As long as I get my 9 hours of sleep before my next session tomorrow I am good.
Share